What are the Advantages of a Hotel Reservation System?
6
minute read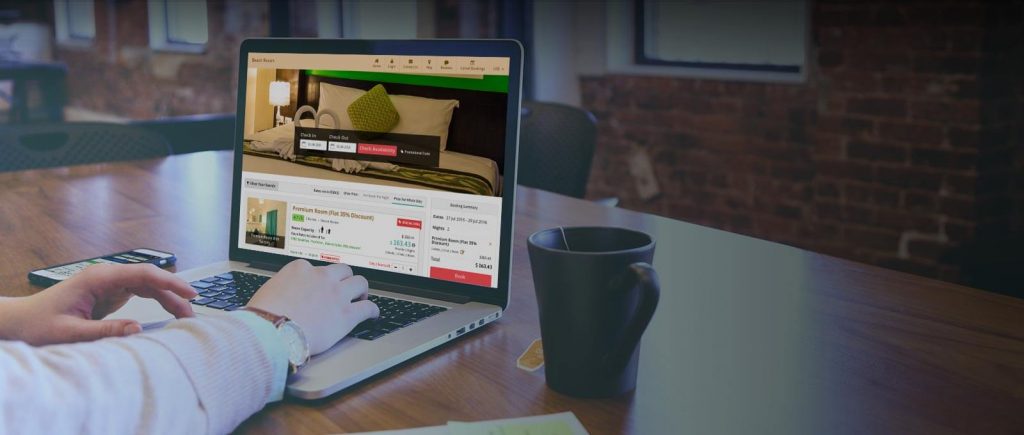 The days of people walking into a hotel and asking – "Do you have a room available?" are long gone. Now, everybody likes to book their hotel rooms on the internet in advance. That's why, whether you are a hotel or a travel intermediary, you need an online hotel reservation system to keep up with the demands of the industry and scale your business.
Moreover, without a reservation system, you would be handling all your bookings manually, which is just massively time-consuming, inefficient and prone to errors. We're sure you have faced the overbookings situation at some point, right? Well, a hotel reservation system ensures that doesn't happen.
So what are the advantages of using a hotel booking system? Let's find out.

Booking automation
With a hotel reservation system in place, you can take bookings 24×7, without lifting a finger! If you are a hotelier, you can integrate the hotel booking engine into your website and allow customers to search and book their preferred rooms directly on your site.
If you are an agency, you can connect your third-party hotel XML suppliers, channel managers and direct contracts to sell live inventory online. Upon a booking request, the system automatically makes a call into the supplier system, checks availability, confirms the reservation if the room is available and issues the voucher with your branding.
Cancellations and refunds can also be handled by the system to ensure smooth operations. This saves you and your staff the time and hassle of performing all these tasks manually using Excel sheets and back-and-forth phone calls and emails with suppliers and clients.
It also increases your reach and revenue potential. Once you implement a hotel booking system, you no longer have constraints of time and place, which means that you can take bookings from anyone, in any part of the world, at any time (not just during your business hours).
Easy Management & Control of Hotel Inventory
If you are a hotelier, using spreadsheets or outdated tools to manage room details, availability, rates and allotments can be extremely time-consuming, especially if you have anywhere over 20-30 rooms. It makes it even more challenging if you are a travel agency owner, selling several properties to keep checking availability on the phone or email with your hotel partners.
This process can take even longer if the hotels you work with don't have a reservation system for their property. Every time a room gets booked, you would have to manually update it against that hotel in your excel sheet. This can lead to errors, delays and overbookings.
With a central reservation system(CRS), hoteliers, travel agencies and tour operators can manage hotel inventory for multiple properties in one place and administer room allocations and availabilities for various sales channels.
Travel agencies and DMCs can configure room rates and content in the CRS for live bookings. They can also provide logins to hoteliers so that they can update the rates or content in the system themselves. This is made possible through a Hotel Extranet.
Here are just some of the aspects of hotel inventory you can manage with a hotel booking system:
Property details, including room types, property amenities, room amenities etc
Photos of property, rooms and amenities
Room rates based on room type, including rates for different seasons, events, festivals etc
Promotions/offers such as % off, fixed discounts, free nights etc, for a specific period, with exception criteria
Various policies such as payment policies, cancellation policies, tax policy, child policy and other terms and conditions
Stop sell and blackout dates
Markups and commissions for different channels
And much more
Wider Distribution
With a hotel reservation system, hoteliers can distribute their rooms through multiple sales channels to achieve growth at scale:
Direct to Customers (B2C)
Travel agents
OTAs
Channel Managers
DMCs
GDSs
Bedbanks
TMCs
Ground transportation companies
Trade Associations
Host Agencies
Event Management companies
A hotel reservation system unlocks numerous channels for hoteliers and intermediaries alike. This would not be possible if you were operating manually, and your growth would be very limited. Organizations can sell their hotel rooms directly to their end-customers through a B2C hotel booking engine or provide B2B logins to their agents and resellers where they can search and book rooms on behalf of the end-customer.

The hotel reservation system can also connect to multiple distribution channels via outbound API. With a single connection, live inventory of multiple hotels can be consumed by all the entities mentioned above, assuming they have a ready booking platform.
The hotel's own reservation system can then update the availability on a real-time basis to make sure there are no overbookings. All cancellations or modifications to any booking on any channel, be it an OTA or the hotel website automatically updates the availability across all connected channels.
Contactless Guest Experience
One of the biggest behavioral shifts that have occurred during the pandemic is the drastic reduction in face-to-face interactions. Customers are seeking a contactless experience, from the time they book the hotel till the time they check out.
Every physical touchpoint in this journey is perceived as a potential health risk by guests. This means that it's absolutely crucial now for travel and hospitality businesses to invest in technologies that can automate the guest experience and make it contactless to a large degree.
A hotel reservation system, by virtue of being online, takes care of health concerns for both guests and staff alike to a large extent. If you are a travel agency or a tour operator, a cloud-based hotel booking system can help you make hotel bookings on behalf of customers and any other back-office tasks remotely, keeping you safe.
Nowadays, hotel reservation systems also provide contactless check-in so that they can bypass the front desk altogether and minimize crowding in the hotel lobby. Vendors are also providing hotels with apps that would allow their guests to order room service, or book ancillaries like spa or massage sessions through the app.
Large hotel chains like Hilton and Marriott have started providing keyless room entry to guests in some of their premium properties, which is a part of the reservation technology suite.
A Great Cross-Selling Opportunity
The value of a hotel reservation system isn't limited to just hotels and travel agencies. Other businesses, such as ground transportation providers(taxis/bus/car hire), activity/sightseeing providers, corporates and event management organizations can also benefit from a hotel booking system.
The fact is, accommodation is an integral part of travel, be it for leisure or business. People need a place to stay. So even though you may not be directly selling accommodation, you can offer it as an add-on to your customers to increase your revenue. A company operating local sightseeing tours or excursions in a city/region, can integrate a hotel booking engine on their website to allow customers to book accommodation in that city/region, along with tours/excursions.
Similarly, a bus operator can integrate a hotel booking engine on their bus booking portal/app to allow customers that travel on popular routes to book accommodation at those destinations. This would be particularly useful for traveling salespersons or other business travelers who frequently use a bus service for intercity work trips. They can book the bus and the hotel on the same portal, making their life easier, while allowing you to extract more revenue out of the same customer.
Corporates can use a hotel booking engine as part of their self-booking tool to allow their employees, as well as the travel desk to search and book hotels. It can be customized to restrict bookings within the corporate policy framework. Corporates that have negotiated rates with certain hotels/suppliers can also incorporate them into the hotel booking system to show corporate rates in the booking interface.
Final Thoughts
So evidently, there are tons of benefits of investing in a hotel reservation system for organizations. And don't let the term confuse you. The use of a hotel booking system isn't restricted to just hotels. It can be used for other types of accommodation too, such as apartments, B&Bs, homestays, hostels etc. These 'alternative' forms of accommodation are becoming increasingly popular, and with a hotel reservation system, your business can take full advantage of that.
Get your business a world-class hotel booking solution at an affordable price
TravelCarma offers a comprehensive Hotel Booking Solution with all the features you need to successfully integrate, manage and distribute your hotel inventory through multiple online channels to your B2C and B2B clients. It integrates with your own inventory as well as XML suppliers for consolidated rates. To help you conserve cash in these tough times, we are offering the solution at a special starting price of just $999 and no monthly subscription or transaction fee. Book a free demo today: