Move over Flights and Hotels: Experiences and Ground Services are the next Frontier in Online Travel
5
minute read
Experience maketh the travel.
Yes, we made that up but isn't it true? A travel experience is more than just flight and hotel bookings. It encompasses what travelers do during their trip and it includes activities, sightseeing, and local transportation.
Most online travel agencies have typically provided just hotel and flight booking options but once travelers reached the destination, they were mostly on their own. This causes inconvenience and creates a sense of fear because figuring out a whole new destination within hours is not easy.
Those who book packages are better off as their itinerary covers experiences and transfers. However, DIY travelers who research beforehand and build their own itinerary are at a risk because ground realities are seldom what they seem like.
Imagine reaching a destination, buying a day tour from an tour office near your hotel, only to find out later that your friend bought the same tour from another operator at a lower price! Even worse, their tour included free drinks and yours didn't!!
Thankfully, online travel is changing and some travel websites have started offering experiences and day tours along with flights and hotels. This helps consumers see exactly what's on offer, compare prices and book exactly what they want – no surprises when they land!
This single step can revolutionize the online travel game because customers are more than happy to plan their entire trip and pay for activities and transportation in advance. In 2018, excursion and activity booking was the 3rd highest booked offering online, closely following hotels and Wi-Fi.
Why has this increased so drastically? Good question.
We have the answers!

The reasons why experiences and ground services are the next frontier in online travel
Convenience – The Primary Reason
Convenience, of course, tops the charts. Most travelers would prefer going on a trip that's predefined. This is because it increases the chances of smooth sailing on ground. Also, being able to see what's on offer in a particular destination makes it easy for casual travelers to choose the right place, season, duration, etc.
Without an activity reservation system or an online transfers booking system travelers are forced to conduct independent research and book via other means (calling the local service providers or buying tickets on the spot). This needs a lot of time and patience. Plus, there's always the risk of an activity or attraction being sold out when you try to book tickets on the spot, particularly when you travel during a peak season.
Lack of pre-bookings also means wasting precious time waiting in lines for hours! What if an attraction or a tour is far from the hotel? Figuring out how to get there and how much to spend is another pain point for travelers. Why not add on hotel pick-ups and drop-offs on your website to make life easier?
With 48% of US travelers preferring to book their entire trip together, activities and all, and 51% of all US travelers spending less than a week conducting research, it is safe to assume that this is not a viable option after all.
And, if they have a platform that remedies this and gives them everything they need, they will use it.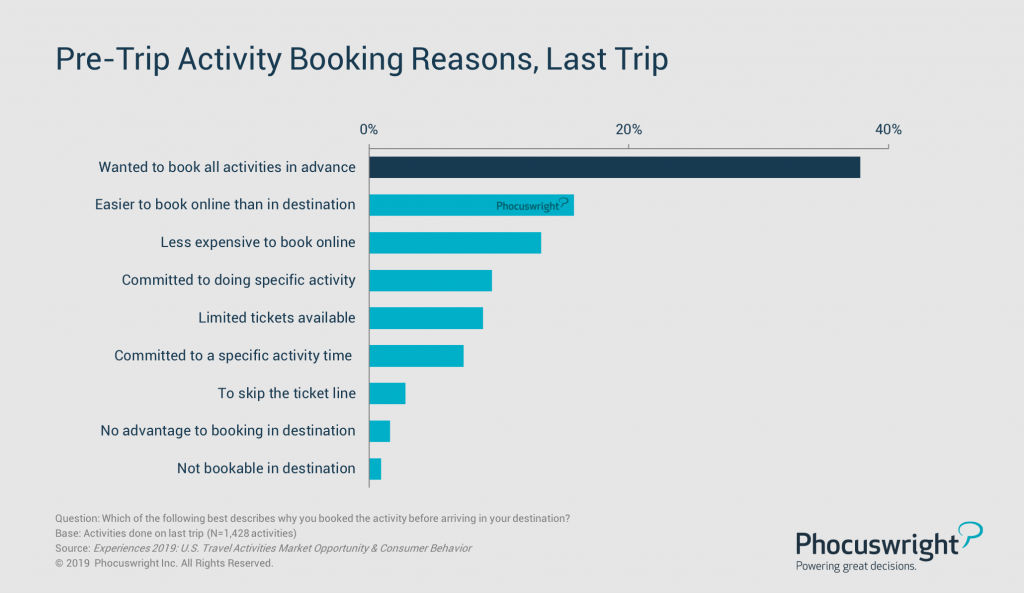 Experience – A lot Depends on it
Have you ever come across travelers who visit a destination just to relax in their hotel rooms? We haven't. Experience is the foundation of all travel and it begins outside of the hotel room. This is why 67% of high-income travelers prefer spending more on activities than on a hotel room. This means that they don't mind compromising on the latter and going overboard on the prior.
Imagine how impressed customers will be if online bookings include these experiences and related ground services! Add to that the power of comparing and choosing based on multiple factors and you have a winner!
With margins on experiences often being higher than on hotel rooms, online agencies can make a ton of money by cross-selling such products on their site.
Personalization – It Rules the Roost
If you thought the aforementioned statistics were mind-boggling, wait till you hear this one:
90% of the worldwide travelers expect customized and personalized support from online booking agencies.
It is the era of personalization and an excursion reservation system provides just that. Travelers can apply filters and sort their options based on currency, type of activity, etc. and view these on the map to determine which hotel to book. They can also check availability, which we understand is a critical aspect of finalizing trips. Activity promotions such as early-bird offers are the icing on the cake.
Competition – Agencies can Ace it
Giants such as Expedia and TravelAdvisor already have a sightseeing booking engine on their platform. The engine is web and mobile friendly, making it a crowd pleaser right away. This is one of the reasons why they are the industry leaders but there's no reason why other travel agencies cannot follow suit.
Activity reservation systems are still in their nascent stage and agents can cash in big time, as long as they provide a user-friendly, content-rich and feature-packed platform.
Business Management – It can get better
Along with providing spectacular, customized options to customers, an activity/sightseeing booking system comes with features that help the businesses as well. From generating extensive reports to offering auto-cancellation for unconfirmed bookings, storing frequent co-traveler details, business rule engine, showing ads & promos, and setting up details in the activity inventory management system, good platforms make life easier for agencies.
The COVID-19 outbreak has caused a massive cancellations and refunds headache for agencies and activity providers that work offline, as they're having to track bookings and refunds manually. With an online system in place, this process would have been a lot simpler for them.
Things to look for in an Activities Booking System
While selecting an activity booking system, following are a few features that one must look for:
Multiple sales channels – B2C, B2B, B2B2C, Call Center
Ability to set up activities, rates, availability, policies and other details
Extensive search filters
Ability to add multiple activities to a shopping cart and book them together
Markups and commission setup
User-friendly interface
Auto-cancellation (if a booking is unconfirmed for a certain period of time)
Automatic voucher generation
Multi-language and currency support
TravelCarma's Activity Reservation System offers all these and more, giving customers the freedom to book activities, day tours and attractions anywhere, anytime.
Renewal of the travel booking experience you currently offer is just a step away. Are you going to take it?
---