5 Travel Agent Resolutions for 2021
4
minute read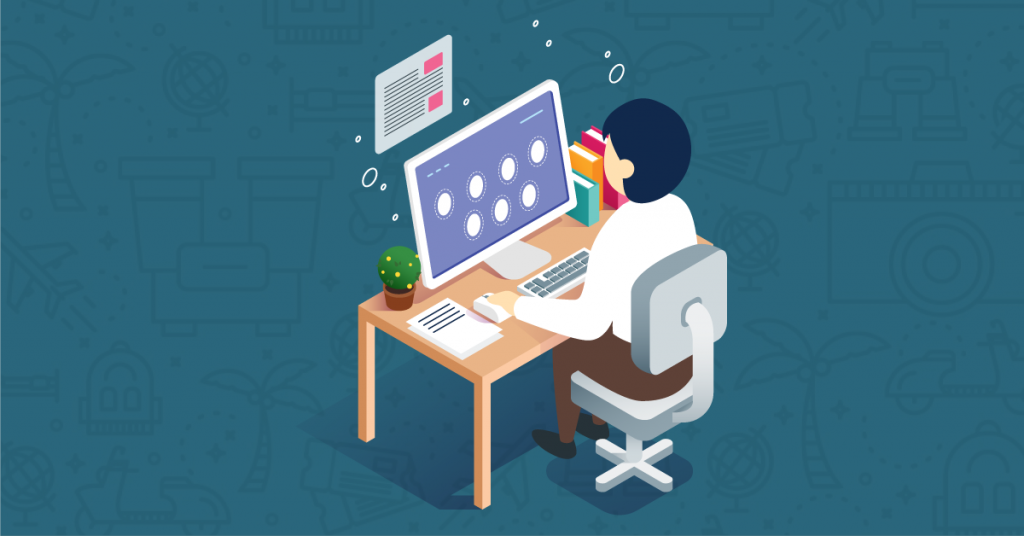 Many of you would be making business resolutions for 2021.
Whether you already have a list that you are working on or you didn't care this year, if you are a travel agent, this is what you should do –
Take a few travel agent resolutions to be the best travel agent you can be in 2021! If that sounds interesting but you don't know how to go about it, you have come to the right place. We have come up with a list of 5 not too late travel agent resolutions for 2021. Please keep reading.


1) Invest in automation
Automation is one of the most beautiful aspects of technology because it streamlines processes, boosts sales, reduces errors & risks and helps you take data-driven decisions. It also facilitates mass cancellations & amendments, simplifies refunds on a large scale, and increases customer satisfaction among other things. Without a system in place, all this needs to be tracked manually and that's extremely cumbersome.
In other words, using a travel agency software for automation could transform your business.
Another huge advantage of automation is being able to manage revenue, business rules, commissions, and accounting in the back office. This doesn't just improve efficiency, it also increases employee happiness. Because, hey, who wouldn't want to be productive without needless labor and never-ending Excel sheets?
When you put all these benefits together, you will see the biggest benefit of them all – money saving! A Travel Agency ERP is like an investment that keeps garnering benefits for you at various stages. Every benefit mentioned above ultimately translates to saving money, which is every travel agent's dream.
2) Expand your offerings
Ah, who doesn't love add-ons?
It's always nice to go the extra mile and offer a few extra products as a part of your packages. For example, if you offer flight bookings and hotel bookings, why not give the option for car rentals? Traveling to a new place is exciting and daunting at the same time as many tourists worry about losing their baggage, falling sick or being ripped off. Why not offer them travel insurance? These ancillary services can nip this fear in the bud, building trust in your customers. And, that's the most important part of running a business.
From offering complete holiday packages to partnering with third-party vendors to offer more travel solutions, there's a lot you can do. Having said that, it is important to be strategic about brand positioning and focusing on a particular niche. Trying to offer a wide variety of products in different niches has the potential to backfire and confuse your audience.
3) Simplify Operations
Now, let's take a trip to the back office and see how you can optimize the processes there. Operations are the backbone of a business and ensuring that the employees have all the support they need is vital.
But, with time, operations will get complex. There will be so much to do right from admin tasks to reporting and everything in between. This burden will reduce employee satisfaction, which will ultimately lead to customer dissatisfaction. Remember, customers are only as happy as your employees!
Also Read this: What's the Best Back Office Software for Travel Agencies?
Before the alarm bells start ringing, it is important to take measures to simplify operations. Using technology to take care of a few things such as looking up fares, preparing itineraries and quotations, configuring system-wide roles, setting up markups and promotions, and tracking bookings will make operations less cumbersome and easy to manage. This is why simplifying operations must be on your list of resolutions this year.
Use our ROI Calculator to find out how much time and money TravelCarma Emperia can help you save on operations in 2020.
4) Manage Better
When we talk about management, we don't just mean internally. Running a travel agency involves communicating with multiple B2B agents. Being able to manage them well is a skill. But, thankfully, it is not a difficult one. You can centrally manage your agents using a B2B system so that they access all the required information on a single platform.
Yes, it is really as cool as it sounds!
5) Deliver a Seamless Travel Experience
What makes a good travel agency a great one? A seamless travel experience. Customers want to have all the answers and offers in one place, on one platform that they can easily navigate through and find what they are looking for.
This may sound simple but did you know that a slow website can reduce your conversions? In fact, even a 1 second delay reduces conversions by 7%! And, this is just the beginning of customer experience. There are many other factors that come into the picture such as superior customer service, 24/7 availability, and pricing.
Also, gone are the days when template offerings worked. We live in an era of personalization. Travelers usually prefer agencies that give them personalized packages based on their budgets, interests, preferred duration, type of holidays, etc.
Early 2021 is the right time to incorporate all these in your business strategy to get the edge and to provide a seamless travel experience. Those who don't do this stand to lose a lot.
If you are worried about executing all these resolutions seamlessly, we have three words for you: Travel Agency ERP.
And before we sign off, we would like to introduce you to TravelCarma's Travel ERP Software, Emperia. It has been designed to execute everything we mentioned above and more. It is, in simple words, a travel agent's key to a successful year!
---