5 Clever Ways in which Travel Brands can use FOMO to Convert Lookers into Bookers
5
minute read
FOMO is a buzzword that has become extremely popular among Millennials. For those of you who are unfamiliar with the term, FOMO is an abbreviation for 'Fear of Missing Out'. Oxford dictionary defines FOMO as: "Anxiety that an exciting or interesting event may currently be happening elsewhere, often aroused by posts seen on social media." According to a report by Everbrite, nearly 7 in 10 Millennials experience FOMO.
A lot of people dismiss FOMO as just another fad or a hashtag used by Generation Y on their social media posts. But is that true? For the uninitiated, perhaps FOMO may be just another hashtag. For savvy marketers however, FOMO represents a plethora of psychological tactics that can help them drive higher sales by pushing certain psychological buttons among potential buyers.
People most commonly experience FOMO when they see friends, family or peers going on holidays, indulging in desirable experiences or attending exciting events, leading them to feel they are missing out.
Although using such psychological factors to move more product isn't novel (retail brands have been doing it for years), increasingly fierce competition and diminishing loyalty is making it almost necessary for businesses, both in the b2c and b2b space. It can be particularly useful in online travel, with its ever growing price sensitivity and the biggest cart abandonment rates of any domain.
So how can travel brands take advantage of FOMO to maximize bookings? Let's take a look:
1) Display Stock Availability
This is a classic case of creating urgency wherein you influence purchases by demonstrating scarcity. An example would be displaying hotel rooms available in the search results of the booking engine. So when a user searches for a hotel in a particular location, you display the number of rooms left for the selected date. In the case of flight search you could display the number of seats left.
This tactic has maximum impact when the availability is in single digits. You can use a good Travel ERP software with an inventory management module to configure a rule in the back end that shows the remaining rooms/seats on the booking engine only when the availability is less than 10.
By telling the user that only a few rooms/seats are available for his selected date(s), you make them feel anxious that the item they are looking at may not be available if they don't book now. This is can push them to complete the checkout process there and then.
2) Use Urgency Messages
The messaging on your website can greatly influence buying behavior. You can use specific phrases that create a sense of urgency, scarcity and exclusivity among users, which instantly trigger their fear of missing out.
Here are some examples of some urgency messages you can show on your website:
"Last Rooms Remaining"
"Exclusive Deal"
"Special offer for a limited time only"
"Book Now to Secure your Spot"
"Fares on this route are likely to go up"
"This Hotel is in High Demand!"
"Don't Miss Out!"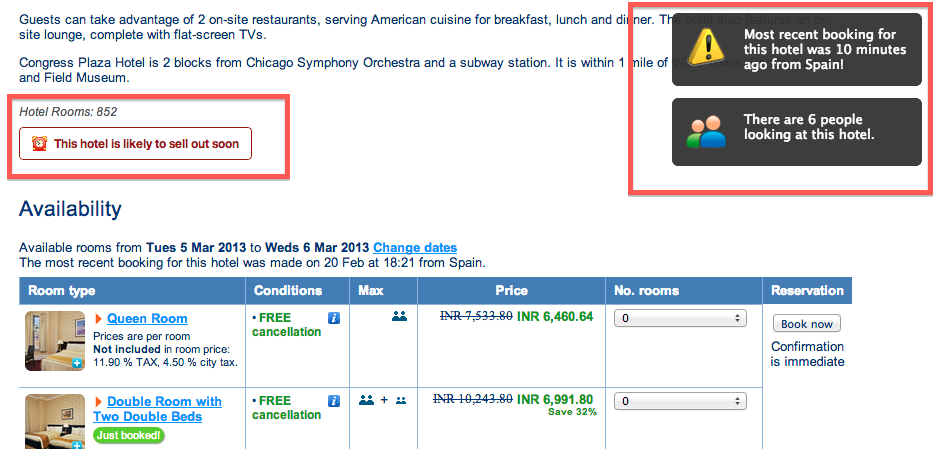 In addition to these messages, you can also show how many people are viewing a certain property. This would make the user feel that if they don't act fast, they'll end up missing out.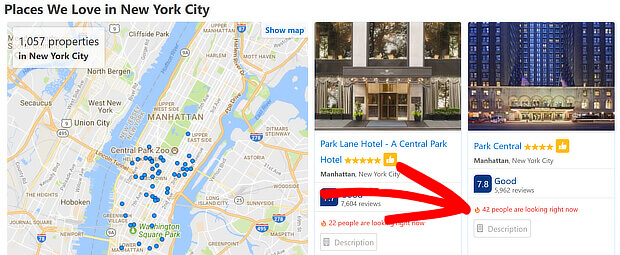 3) Run Flash Sales
Flash sales are a form of limited time offers that are becoming increasingly popular in ecommerce and are a great way to boost the sales of specific items from your inventory. Under a flash sale a hotel, activity or a tour package can be made available at a discounted rate for a very short duration.
Again, a good Travel ERP software can help you easily set up and run such promotions for your website. Using the promotions module, you can define the items on sale, the sale price and start date for each one as well as the duration of the sale.
You can enhance the impact of a flash sale by displaying a timer next to the item on promotion counting down to the end of the sale, one that says something like: "This Sale Ends in 5 Hours : 10 Minutes : 20 Seconds!"
Flash sales can be extremely effective in pushing sales as the offer is available for a short duration, thus creating a strong sense of urgency and encouraging instant bookings.
4) Display Number of Bookings
Consumers are more likely to buy something when they know that the same product/service has been bought by many others like them. Therefore, displaying the number of times a flight, hotel room, activity or a tour has been booked over a period of time, say a day, week or a month, can greatly influence users, especially those who have never booked that product before.
Travel is generally regarded as a high involvement purchase carrying a relatively high level of risk, and letting users see how many times the travel product that they're looking at has been booked acts as social proof that helps reduce friction and increase confidence.
5) Display Positive Customer Reviews
Another form of social proof that can help you encourage bookings besides no of bookings is testimonials. Display user reviews on your website, and also encourage happy customers to share their reviews on your Facebook page.
Displaying positive user reviews does two things: 1) It reduces anxiety, and 2) It inspires users. When users post a descriptive review of their experience, potential buyers looking at the review feel the desire the have the same experience.
In addition to text, ask your customers to post photos of their experience along with the review. This would act as even greater inspiration for your potential buyers as they would imagine themselves being in that place and doing the things people in the photos are doing.
So these were some smart psychological techniques travel providers can use to improve their look-to-book ratio and ultimately maximize revenue. If you enjoyed reading this article, subscribe to our blog to get more such tips and tricks right in your inbox!
If you're looking for an online booking system that would help your business put the tactics mentioned in this article into action and drive more bookings, get in touch with our sales team today using the link below:
About the Author
Chintan is the senior marketing manager at TravelCarma. He is a data-driven inbound marketing specialist with strong experience and a proven track record in strategizing and executing omni-channel marketing campaigns. He enjoys traveling and exploring off-the-beaten-tracks.