Why Multi-Generational Travel is a Huge Sales Opportunity for Travel Agents
4
minute read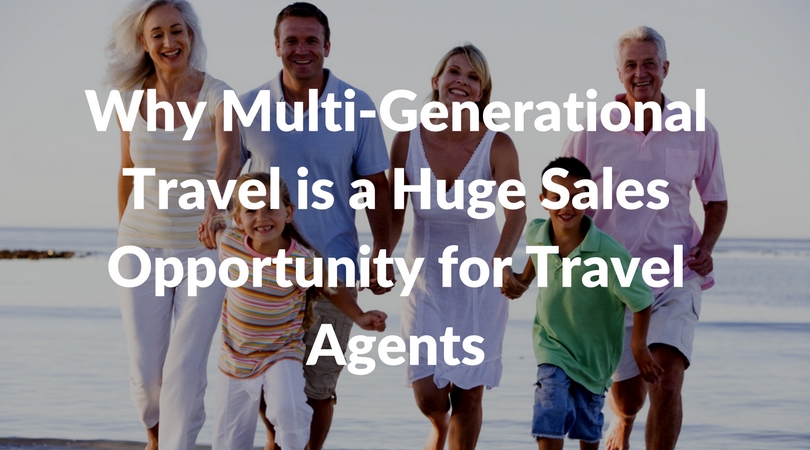 The scope of travel as an industry offers a plethora of choices to people – whether it's the choice of destination, flight or hotel options, things to do, places to eat at and so on. Leisure trips are the most popular form of travel. Expected to be a relaxing escape from the busy urban life, it becomes critical for travel operators to plan and create themes for arranging trips. A popular subset of leisure travel is a category that's seen growth, particularly in the western world – Multi-generational Travel.
Although getting all the different choices that suit each generation on a common trip sounds challenging, that's what adds fun and excitement to the concept. For a newish parent, the most challenging option is possibly the constant effort to balance kids and other people in the family. However, it provides a great opportunity for families to come together and share memorable experiences.
So, what exactly is Multi-Generational Travel?
According to a national (U.S.) survey released by Preferred Hotel Group, multi-generational travel is that which is fueled by grandparents' wallets and grandchildren's sense of wanderlust. These are genetically leisure trips that include three generations of participants and are poised for rapid and sustained growth.
The attitudes, lifestyles, social values, preferences, and media habits of multi-generational travelers showed that the concept of multi-generational travel emerged as people want to "spend more time with family on vacation". This primary motivation, found predominantly among the leisure travelers became even more popular in the aftermath of the 9/11 tragedy. The frenetic pace of contemporary life catapulted a corresponding sense of guilt which many parents felt as for not giving enough time to their children and parents. And it is thus seen as a trend that travelers who opted for multi-generational trip would plan domestic (86%) or international (48%) of repeated multi-generational holiday.
The Driving Factors
The desire to spend more time with the family members is in itself the strongest factor which is driving the popularity of multi-generational travel. Yearning for more "together time" in an age where everybody is busy in their own lives is definitely a strong reason to cash in on this trend. Connectivity among members belonging to different age group in a family, especially in the case of dual-income households is becoming increasingly scarce. Trapped in this vortex, family vacations are now viewed differently, where they're more about "reuniting" and catching up with family members rather than experiencing new things together.
Adding an element of social responsibility is also sometimes a crucial point for multi-generational travel. The value system incorporated in such itinerary, like sticking to defined meal plan, visiting or taking part in fun games what their grandparents want yields healthy results in longer terms. Overall, the sense of family integration is developed.
Multigenerational Vacations for Every Budget
• Theme parks
Amusement parks have always been a part of cultural heritage and arranging trips to theme parks can help to bring out the kid inside! Travel Agents can lock the late season tickets to get the best value along with the discounted hotels and flights packages.
• Cruises
For your high budget clients, a great way for them to show their parents they love them and give their kids a new experience would be to offer them a cruise holiday. Providing state-of-the-art facilities and plenty of interactive activities, it would indeed be an extravagant multigenerational travel.
• A Wholesome Family Weekend at an All-inclusive Resort
Spend the weekend at any all-inclusive resort to experience newer culinary choices along with recreational facilities. Generally, these resorts offers ambiance ideal for members of any age.
• Guided Multi-day Tours
This is similar to a travel program with reputed operator who takes care of the preferences and necessities of the traveling members. The trip could be with either a luxury small group or a mid-sized/large group with some customization options depending on the budget and needs of the group.
Why Travel Agents Should Promote Multi-generational Travel
• Expanded sense of family
Representing half of all vacations taken by parents and grandparents, multi-generational holidays help to promote the sense of bonding that extends well beyond immediate family members.
• Involves Children
With more exposure to social media than their parents or grandparents, children can have a big say in deciding where to go for the vacation. According many studies, children "actively participate in or influence vacation planning,"
• Traveling far and wide
Sense of wanderlust is not only limited to the "domestic" destinations. An International multi-generational trip is a pronounced sentiment among them.
• High Booking Value
Multigenerational vacations, for obvious reasons are expensive, the number of travelers on the trip being one of the reasons. Grandparents are more inclined to sponsor such vacations as they tend to help members enjoy a holiday which they otherwise probably could not afford.
Peter Yesawich, Vice-Chairman of MMGY Global, a Travel Marketing firm said at Luxury Travel Exchange International in Las Vegas said, "We discovered in our work that one of the primary motivations for affluent grandparents is to provide a vacation experience with kids and their grandkids that they feel they otherwise would not be able to afford. They're the ones funding the cost of the trip," – and this should be taken as an opportunity for travel advisors.
Bottom line
About 38% of multi-generational travelers use traditional travel agents which is about to rise to 41% soon. The main reason for this is that owing to the complexities of multi-generational travel, planning and booking such trips is best left to a travel professional. The segment of the multi-generational travel is showing a sizeable growth and influence in the tourism industry. US Census shows that there will be more than 80 million grandparents by 2020 and they are expected to spend more on recreational products and experiences than their children.