How Travel Agents can Woo Millennial Travelers – The Segment that is Reshaping the Industry
5
minute read

Introduction
Millennials are often misconstrued. Though a frequently used word, not everyone in the travel industry is aware of what the word specifically describes and what makes them a different segment altogether. Unfortunately, like them or hate them, you cannot ignore the fact that rise of millennial travellers is definitely not a fad.
The penchant for staying urban and travelling smart is probably what describes millennials. Tapping away on their smartphones while waiting in the baggage check-in queue at the airport, working off a Macbook in the hotel lobby, using apps to book airport transfers and car rentals – millennials are easy to spot.
Popularly known as the Generation Y, they are tech-savvy, love social media, depend on and share online reviews, like to plan their own itinerary and make all bookings online. This generation of travelers is predicted to reach as high as 78 million by 2030 and might outnumber baby boomers by a huge margin of 18 million. Therefore, it's essential for travel agencies to have the right business tactics in place to win this booming segment.
Are Millennials synonymous with 'Bleisure' travel?
There is panoply of descriptions about what the millennials like and what they don't. However, it's probably because of them the term 'bleisure' was coined. 'Bleisure' goes much beyond just posh locations and extended trips. For instance, they may look up social media channels to solicit travel advice from local folks.
Marriott, Hilton, Starwood, Virgin Atlantic and many more international brands are now rolling out new concepts which focus on the preferences of young travelers. W Hotels and Kimpton are also in the race of redesigning their properties to meet the demands of gen Y.
Are millennials trying to take advantage of travel brands? Well, definitely not. What travel providers must keep in mind is that millennials like to blend work and play during business trips and this is where the hospitality industry needs to capitalize.
Frequent business trips can be tiring; so to make them more productive, the travel needs should be satisfying for the millennials. The equation seems simple here with more companies doing business with global clients; more diversification in travel needs is inevitable.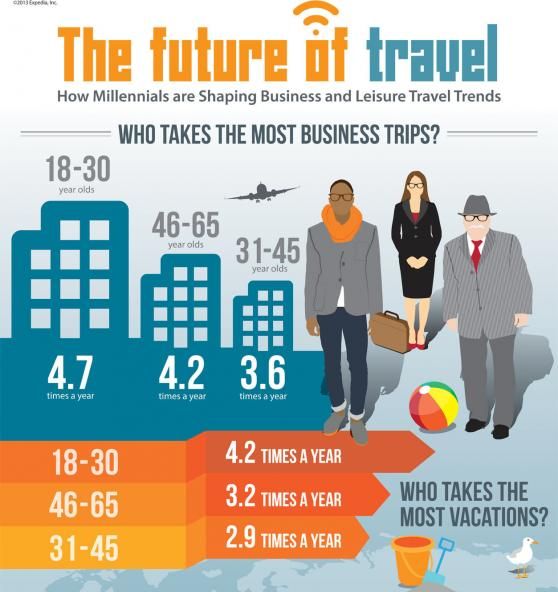 Millennials prefer Experience over Cost
The one thing that millennials definitely don't require is shopping value as they can very well do it themselves. Not to be confused with profligate shoppers, millennials want the best bang for the buck spent. What they want but they can't necessarily create on their own are unique and authentic experiences. This is where the travel agents can indulge into and help them fulfill their cravings. And this is exactly where as a travel agent; you can make your own mark.
Millennials trust customer reviews more than advertising and word of mouth matters a lot for them. So, if you promise to satiate their hunger for a grandiose trip, be sure to receive more calls! Exotic destinations like Costa Rica, Thailand, Peru etc. are the places where millennials find themselves relaxing. Even the over-visited destinations have something surprising to offer, which, if you are arranging trips with millennials, should definitely make them explore.
Corporate millennials are often starved of holidays but once they get it, millennials want to make them as memorable as they can. The nub of the matter is, you may be accused of plagiarized shenanigans if the holiday plan is not unique enough.
Millennials can help Spread your Name Around
Agents with millennials clients will get a lot of referrals, may be through their parents, colleagues or friends. They believe in sharing culture and seeking advice. This is beneficial for agents as they give you space to plan itineraries according to what you think is best.
In a way, millennials' propensity to share and refer helps to bring in more business provided agents impress them with amazing and unique experiences. Peer reviews are therefore not just based on the traditional set of credentials but also on social media sharing.
Content is King
Branding is a big word for millennials. From an attractive logo to simple, user-friendly and transparent website – millennials like to appreciate eunoia. Creating attention-grabbing content, especially through blogs and social media can attract millennials more than any other advertising campaign.
Authentic Destination guides, personal stories (particularly from your customers) and exclusive images are ways to take your travel agency ahead of the competition. It's essential to impress millennials and make them believe that you are the 'thought-leader' in destination management.
In fact, social media interactions also help to bring you closer to the choices of the millennials. The atypical choices of the Gen Y can kick-start your agency where you would have otherwise followed the traditional travel rules and lagged behind.
Instant Gratification
Instantaneity and spontaneity is what millennials seek the most. Since the generation has grown up with the technology where they can access information instantly, as an agent, you have to be aware of the latest trends and developments – although that is not the best way to keep up with the millennials. Technological convenience with which the millennials are accustomed must be served if you want to be named in the top-list of hospitality servers.
The dominance of social media and their constant involvement has rightly nicknamed them as the Now Generation. Millennials are accustomed to sharing their all life opinions and activities through social media. They expect the same from the travel agents as well. So things like regular updates, especially about last minute deals can go a long way with millennials.
Connect with a Social Cause
Being a socially-conscious generation, millennials like to connect with projects and practices like sustainable development, green initiatives, carbon-free projects etc. This helps to add to the value of the trip and also, in long terms, can promote responsible tourism.
The Latest Trend
The number of people saying they've used a travel agent to book and plan a trip has rebounded slightly than the last couple of years. The increased interest from millennials in travel agents may have contributed to the trend. The American Society of Travel Agents (ASTA) showed that there has been a 14 percent increase compared to the last three years.
About 45 percent of millennials voted saying they're likely to recommend a travel agent to their family or friend while planning a trip. The flip side of the story says that those who tend to have a high travel budget like to involve a travel agent than those with a low budget.
The Bottomline
We live in an age where almost an entire trip can be arranged and 'booked' on a smartphone. From finding the best airfare deals to the cheapest quality home-stays, millennials are aware of everything. Various surveys have found out different traits amongst the millennials who mainly range from 18 -30 age group. While some results showed they don't like to indulge in any in-person conversation, others showed that they are dependent on travel agents for planning trips.
The truth remains that high-end tour operators cannot be replaced with online travel planning tour options. The key to attract millennials thus remains in the hands of the travel agents, who with their expertise coupled with the adoption of technology can offer them a helluva travel experience!
---

TravelCarma is an experienced Travel Technology brand powering 200+ Travel Companies worldwide with B2C/B2B Online Reservation Systems, Back-Office, Mid-Office and Access to Global Inventory. Visit our website or get in touch with us on sales@travelcarma.com to find out how we can help your travel business grow.