How Technology Can Redefine Travel Concierge Services
5
minute read
Current Challenges facing Travel Concierge Service Providers
There is massive growth in the demand for travel concierge services, as more and more banks and credit card companies are offering travel services to attract customers and increase loyalty, particularly among the big spenders.
As disposable incomes, card spendings and millennial travel rise, so will the scope and importance of travel concierge services. They are already very popular among business travelers, and the same trend is being observed in leisure travel.
However, the growth of this market is hampered by operational inefficiencies and lack of technology adoption. Companies providing travel concierge services are affected by issues such as slow turnaround time in responding to customers, manual reservations, errors in accounting and reconciliation and lack of reporting capabilities to help them keep tabs on their business.
Moreover, there's growing demand among their clients for Self Serve B2C portals to enable their premium customers/loyalty program members to make bookings online.

Introducing an end-to-end Travel Concierge Solution
To address these problems, TravelCarma has come up with a comprehensive travel concierge platform with interfaces for both concierge employees and end customers along with a back & mid-office system for booking management and business automation
It is a seamless travel planning and communication platform that increases concierge productivity and provides a top notch experience for customers.
Additionally, it produces accurate reporting and allows centralized monitoring of transactions.
Overall Benefits for Travel Concierge Providers
Higher Customer Satisfaction
Shorter Concierge Response Time
Increased Concierge Productivity
Client/Market-Specific Co-branding
More Accurate Reporting
Faster & Easier Quote Sharing
Better Marketing & Promotions
Higher Conversions
No More Manual Booking Entries
Better Revenue Management
Improved Concierge/Client Communication
Easier Markups and Commissions Tracking
Solution Components

Concierge Front Office

We provide a powerful internal reservation system for the concierge using which the concierge staff can make real time bookings for flight, hotels, cars, activities etc on behalf of customers. It has the ability to aggregate data from multiple XML suppliers and direct contracts and displays it in a consolidated form on the front end.
Features

Dynamic Packaging
Our Shopping cart module allows for dynamic packaging, storage and booking of multiple products together and continuous price checking
Booking of multiple items together increases efficiency
Concierge can also combine fixed packages with a dynamic flight option
Quote Management
Our quotation management module helps concierges create quotes with both live and offline content, discuss the options with the customer using an in-built live chat module and book via shopping cart upon the customer's approval
They can save the quote and retrieve/merge the quotation for the same customer or other customers planning a similar trip with updated prices and dates
The ability to reuse trips and quotes can save and reuse of trips, increasing efficiency of resources by 300%
Live chat
The customer can even chat with the Concierge and discuss the Travel Plans online
This increases customer participation in the planning and booking process thus ensuring customer loyalty and repeat business.
CRM Integration
Our system can easily integrate with your existing CRM system via API and SSO(Single Sign-on)
This allows the ability to launch the booking application from the CRM itself and populate it with the concierge and customer details to create a seamless process and improve concierge productivity.
It also helps the concierge to pull up the customer data from the CRM and use it for making the booking through the concierge front office
The front office can also push the booking data into the CRM to update customer records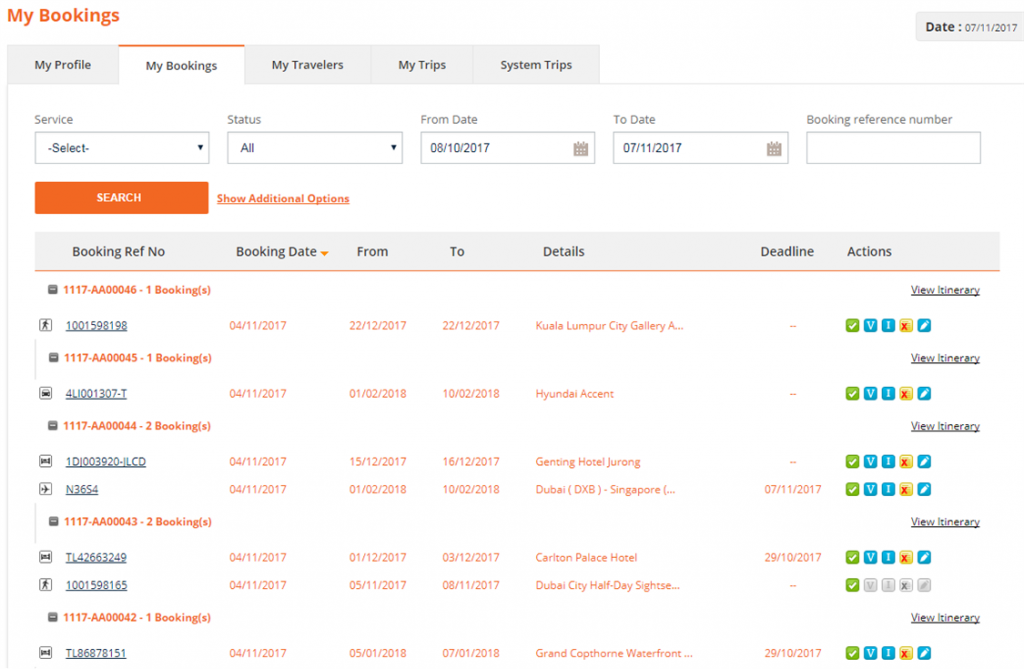 Self Serve/B2C Portals

Consumers today expect the flexibility to be able to search and book flights, hotels and other travel products without always needing to come through to the concierge call center. Our self serve portals help you provide this flexibility to your customers, delivering a top notch online planning and booking experience.
They can log onto these portals with their concierge program login and book quick transactional products using their preferred payment option, including redemption of reward points based on the built-in reward program logic.

Each self service portal can be customized for a specific client/market with its own branding, language and currency. The Vouchers and emails generated by each portal can also be co-branded for different clients and markets.

Features
Shopping cart to help them add multiple items to the cart and book them together in a single transaction
Map view to help them find hotels within a particular area on the map
Nearby Attractions providing the ability to see nearby restaurants and attractions on the map
Flexi-search showing airline fares +/- 3 days around the selected date
LCC Search with the ability to specifically see the lowest fare on the selected date(s) for Low Cost Carriers
Day view to help them organize their trips day-wise, available on both web and mobile
Co-traveler management that allows customers to store co-traveler profiles in the system, saving them a lot of time on booking trips involving people they travel frequently with such as friends/family members/co-workers
Single sign-on using which customers can sign-into the self booking tool from a third-party system (eg a digital wallet app) with their existing credentials, again saving precious time and effort
Ability to show deals on the self serve search results page to promote specific products
Cardholders deep linking with the ability to showcase featured hotels for cardholders and allow them to book directly from the home page via deep links
Secure Card + Points payment which lets customers securely pay using their card as well as redeem loyalty points on one page
Back Office/Mid-office
The Concierge Solution includes a powerful Back & Mid-office Module which facilitates the configuration of business rules and other key business processes including the management of portals, transactions, reward programs, employees, accounting, reporting etc
Features
Advanced business rules and pricing features for efficient revenue management
Promotions module which allows for delivery of intelligent promotions with business rules and availability criteria
Configuration of reward program logic including reward calculation and redemption(various permutations and combinations of cash and points)
Supplier and Customer Accounting with drill down ledgers
Ability to manage supplier-specific business rules from a single admin interface
Versatile booking management with ability to manage failed transactions
Management of both web and mobile bookings from a single admin interface
Ability to configure pricing rules such as markups and commissions by various criteria such as by customer class, by business, region etc
Ability to configure markup exceptions
Configuration of promo codes and other forms of promotions to help concierge clients drive higher loyalty among the members
Concierge can create customized email templates for vouchers, invoices and itinerary
Create Custom BI Reports for all business needs
Detailed Ledger for Accounting Reconciliation which can be exported to Excel and PDF
Interested in implementing this solution for your business? Get in touch with us today for a demo!

About the Author
Chintan is the senior marketing manager at TravelCarma. He is a data-driven inbound marketing specialist with strong experience and a proven track record in strategizing and executing omni-channel marketing campaigns. He enjoys traveling and exploring off-the-beaten-tracks.