How Travel Firms can build a Customized Online Booking System with Minimal Effort
3
minute read
As the travel industry becomes increasingly digitized, tourism firms across the world are realizing the importance of going online and investing in online booking technology. Now, if you're a travel company that wants its own online booking platform, you typically have two options – Buy an off-the-shelf solution from the market, or build a solution from scratch.
While buying a ready solution is a great option for most companies out there, there are companies, especially ones with their own IT teams that might want to build a solution as per their needs. So what's the biggest problem with that?
Building a solution from scratch requires a lot of time, effort and cost. A typical online travel solution has the following components:
Booking Engine
Back Office/Admin System
Call Center (Employee interface)
Customer Management
Content Management
Contracted Inventory Management
Reporting Module
Supplier Connectors and Management
Just imagine building all these modules from scratch – You and your team would need to do tons of research, plan workflows, create mock ups, write thousands of lines of code and then test everything before rolling it out! The entire process would take at least a year! That's 12 months of your staff's time spent on developing a complex system, when you could instead utilize it to promote your business and generate sales.
What if you could access a ready-to-deploy travel e-commerce solution and have your team focus only on developing your custom interfaces?
Introducing TravelCarma Development API
TravelCarma offers a first-of-its-kind solution that allows travel organizations with in-house tech teams, as well as third-party software companies build a customized end-to-end online travel booking platform with minimal effort.
With TravelCarma, you can develop your own front ends for both web and mobile while the most complex portion of the travel technology components like the agency/distribution management, transactions, pricing content filtering rules and data transformation and aggregation is handled by us using a single development API.
We bring in the travel technology and distribution expertise and understanding of the suppliers and their technology and the UX is designed as to the specification and needs of the end user.
It not only reduces time to market, but saves customers from making the mistakes usually made by the first time travel software developers.
Using the building blocks provided by us, you can develop and launch your own applications in far less time and cost than it would take if you build the entire system in-house.
TravelCarma Development API is platform agnostic, allowing firms to develop applications for a wide range of platforms including ASP.NET, PHP, Android, iOS etc.
Solution Overview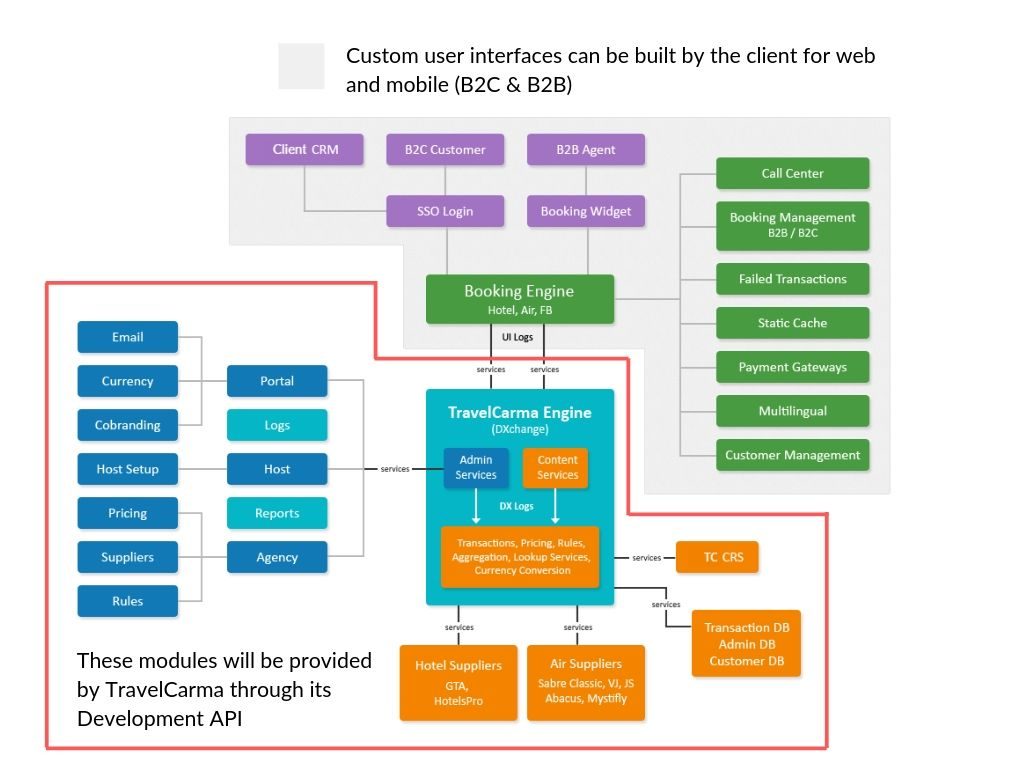 Top Benefits of TravelCarma's Development API
Reduces development time, complexity and costs by nearly half, thus providing a great ROI
Drastically shorter time to market as it had a unified API schema that can be utilized for all products (air, hotel, activities etc)
Flexibility to design the UX as per your specifications and needs
Saves you from making the mistakes usually made by first time travel software developers
Allows you to leverage our travel technology and distribution expertise and understanding of suppliers and their technology
Additional functionalities can be easily accommodated using the UX and data APIs which are optional add-ons. This allows the client teams to extend the solutions and build custom modules if needed
You can even seamlessly integrate your legacy systems or third-party CRM or Accounting Systems into your applications to protect your existing IT investments
For more information about our Development API, please get in touch with us today: